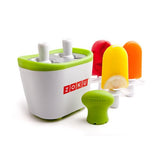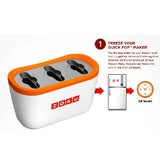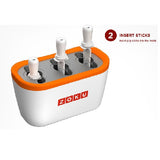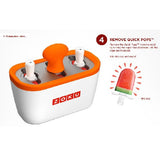 [Zoku] Duo Quick pop maker-Green
The patented Zoku Duo Quick Pop Maker freezes ice pops in as little as seven minutes on your countertop without electricity. The Zoku Duo makes the same size pops as the original Quick Pop Maker and freezes them just as fast! A smaller and more compact design than the original, the Duo can make up to six pops before refreezing the unit. The Duo is great for couples, students, smaller families, or as an addition to the original Zoku for larger families! The Zoku Duo can quickly make striped pops, yogurt pops or (for the first time ever at home) flavored core pops. To enjoy Quick Pops at a moments notice, simply store the compact base in your freezer. Zoku's specially designed Super Tool helps to quickly release the frozen treats from their molds.
Includes: 1 Duo Quick Pop Maker, 4 sticks, 4 drip guards, and 1 Super Tool.
Dimensions: 5.75" x 4.5" x 4.75"
BPA and phthalate free.
About Zoku
/p>
Our Story
Zoku is known for our housewares. But really, we re in the thinking business. We put the fun in functional with innovative, easy-to-use, well-designed products. Zoku means family in Japanese. The definition goes beyond creating family memories around our products, it speaks to our culture. Our office—which we designed from scratch—is our playground.
Located in the heart of Hoboken, New Jersey, our space is where creativity runs wild, risks are encouraged, and possibilities are infinite. We re inspired by the world around us, getting our hands dirty with prototypes and learning by collaborating, building, tasting, and exploring. Our large test kitchen is the backdrop of tasting new recipes, bouncing ideas back and forth, and often where we all gather to eat our lunches.
It all started with a seemingly simple idea: what if we could make popsicles freeze faster? And after months of research, testing, and prototypes, our Quick Pop Maker was born. We knew we were on to something and soon, Williams-Sonoma agreed, picking us up for their holiday season.
Design is at the heart of everything we do, from product innovation to packaging to our office supplies. Zoku designs have been included in collections at The Henry Ford, the Chicago Athenaeum Museum for Architecture and Design, and thousands of kitchen counters across the world. Our proudest accolades include a handful of really touching letters from our customers, but we ve also been recognized by the Industrial Designer s Society of America as an IDEA finalist (not to mention a Silver and Bronze recipient), a GOOD Design Award, mentions on Wired.com, and a National Parenting Seal of Approval.