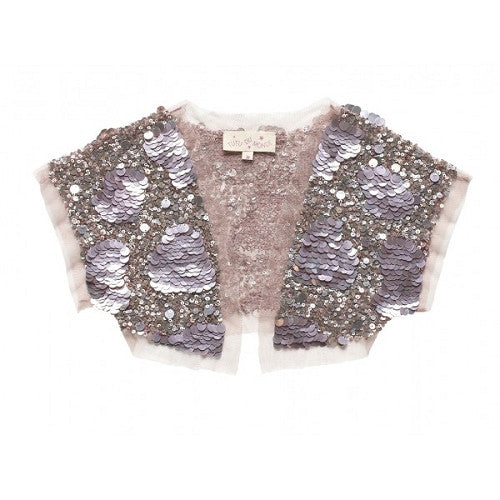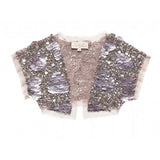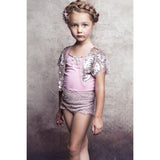 [TUTU DU MONDE] Queen B shrug
Paired with a plain white tee or a pretty party dress, our dazzling sequined Queen B shrug will add a large injection of sparkle.
About TuTu Du Monde
The creation of celebrated designer, Andrea Rembeck, and based on her unwavering commitment to authenticity, quality and craftsmanship, Tutu Du Monde enriches every little girl s desire to dream.
A true artisan, Andrea draws inspiration from the delicate and the divine, the vintage and the antique expressing her creativity with a contemporary spin and couturier s eye.
Capturing the spirit, innocence and freedom of childhood, the essence of Tutu Du Monde shines through each exquisite piece from the signature tutus to seasonal capsule collections featuring perfectly coordinated items such as headdresses, jewellery, capelets and ballet slippers. Celebrating the imaginations of little (and big) girls the world over, a Tutu Du Monde garment is truly unique just like its wearer and is perfect for all occasions, from playing dress-ups to flower girl.
Each Tutu Du Monde item is an expression of the love that is poured into them, from the design stage in Australia, to their production in India by a group of extremely talented ladies who are proud to use the skills handed down to them through their families.
Reminiscent of ethereal French ballet costumes, all Tutu Du Monde garments are of the highest quality, hand-crafted and hand-dyed with an old-world feel dusty pastels, silk ties, sparkly sequins, crystal beads and wisps of feathers applied to the softest natural cotton, finest tulle and silk organza. Tutu Du Monde pieces are divinely comfortable, with a focus on simple, timeless designs, breathable, lightweight fabrics, and with stretch and softness. They are made to last and become more lovely with wear as slight fading and fraying edges adds to their charm.
The pure theatricality and transformational nature of Tutu Du Monde is guaranteed to bring a sparkle to the eye and warmth to the heart. And, so much more than a piece of clothing, a Tutu Du Monde garment is designed to be treasured for decades to come, creating powerful memories to pass on through the generations.
At the heart of Tutu Du Monde is a sense of pure joy. Quite simply, little girls blossom when they step into a Tutu Du Monde garment and begin to daydream!