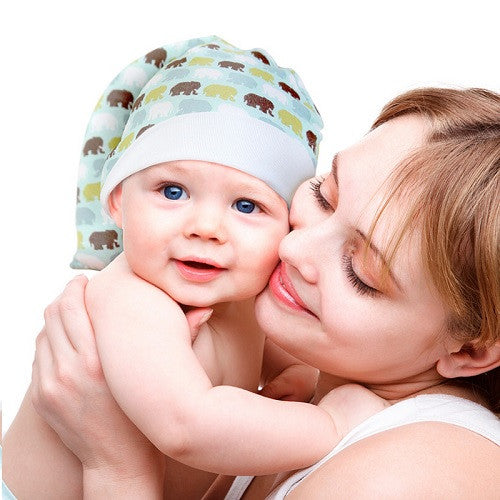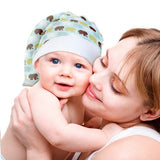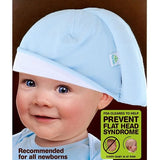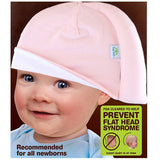 [tortle] Repositioning Beanie
Repositioning is recommended for all newborns; every baby is at risk for developing Flat Head Syndrome (plagiocephaly). Because baby's skulls are soft, yet heavy and necks are weak, infants are vulnerable to developing these conditions in the first few months of life. This is why, proper movement and deliberate repositioning of your infant from birth is one of the key's to the healthy development of your baby. Tortle is a simple, comfortable beanie that is FDA cleared to help prevent and treat Flat Head Syndrome (plagiocephaly). Early detection and correct use of Tortle will ensure the best long term results. To properly use the Tortle, you must pull the beanie down as far as possible so the crown of the head is fitted into the top of beanie and ears are covered. If beanie is covering baby's eyebrows, you can fold the front of the beanie. Remember to let your Tortle grow with your baby and purchase the next Tortle size!
Extra Small
11.8-13in head circumference)
Small
13-15in head circumference)
Medium
15-16.5in head circumference)
Large
16.5-18in head circumference)
Click Here for Perfect Fit Guide
The Tortle Air revolutionizes prevention of Flat Head Syndrome (flat spots on baby s head and tight neck muscles). The Tortle Air boasts a midline front opening to allow for an additional 4cm of adjustment, that allows you to easily place the Tortle Air on baby s head with little to no slippage when necessary.

The Tortle Air provides your child with the most advanced positioning aid for prevention of flat head syndrome.

Single layer construction is highly breathable and achieves improved fit. Adjustable elastic tabs and midline front opening make it easy to get the right fit and reduce slippage.
The Tortle Air helps to prevent flat head syndrome. It does this by gently deflecting your baby s head while baby is sitting or laying, to gently move baby s head from side to side. It s a natural way to encourage healthy head and neck motion.
95% cotton/5% spandex. Machine washable.
Newborns can wear a Tortle Air for the first six months of life as a positioning aid to help prevent Flat Head Syndrome.