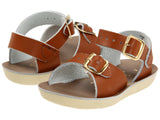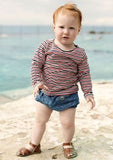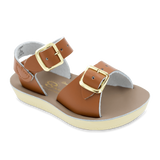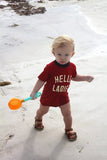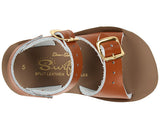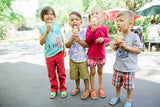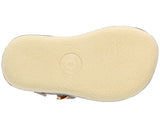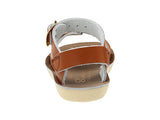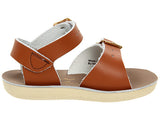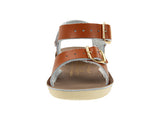 Salt Water Sun-San Surfer Sandals Tan
The Sun-San Surfer is a classic two strap sandal that s perfect for younger feet. An adjustable toe buckle and ankle strap make them great for both wide and narrow feet. Wear them comfortably all day long thanks to the lightweight, cushioned urethane sole. Rust-proof brass buckles and scuff-resistant water friendly genuine leather make them ideal for in-and-out of water wear. They clean up so easily, and with proper care will last for years.
Size 9
About Salt Water Sandals
The Sun San Salt Water sandals are made of high quality leather and have adjustable straps, and brass buckles. They are made with a urethane and rubber sole. They can be worn in salt water or fresh water and can be hosed off or thrown in the washing machine when dirty.

HISTORY:
Walter Hoy founded Hoy Shoe Company in 1944. He worked in the New England area as a shoe cutter. He then moved to Missouri and found a position in a shoe factory in St. Louis. In 1944 he had a great idea. Due to leather rationing during WWII, he decided to use the scrap leather from the manufacturing of military boots to create sandals for children and Sun-San Salt-Water Sandals were born. After the end of WWII, he began making them in several different styles and colors. Three generations later, women and children are still wearing the same styles their parents wore before them.