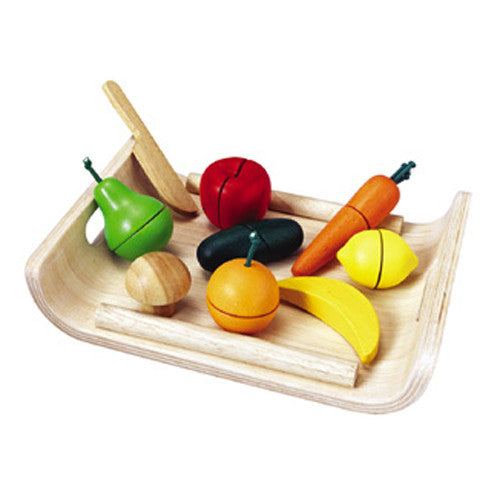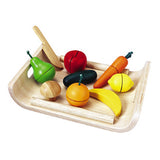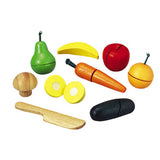 [Plan Toys] Assorted Fruits & Vegetables
Ages
Description
These nutritional fruits and vegetables come with a tray and knife for children to enjoy cutting them.

The set includes an apple, pear, lemon, orange, banana, cucumber, mushroom and carrot.

It encourages children to role play different characters as well as stimulating their imagination.
Playtime Ideas
Children can pretend to wash the assorted fruits and vegetables for hygiene purposes.

They can cut the various vegetables in half and pretend to cook a meal or cut the various fruits in the set and place them in a serving dish and pretend to serve their family members, friends or visitor.

They can play with their friends, family members or others and create stories like how much did the apple cost you , "how many lemons did you buy or is the banana ripe

While playing along, parents can'teach their child the names of the fruits and vegetables, which will help develop vocabulary skill.
/span>
PlanToys

is a

toy

manufacturer in

Trang

in the south of

Thailand

. It was founded in 1981 and makes its toys from

rubberwood

, a

sustainable

by-product of the

latex

industry's harvesting of trees used for

natural rubber

production once their productivity declines.

Using the trees as a resource in this way for wooden toys made by PlanToys is environmentally responsible.

Plan Toys uses preservative-free rubberwood and non-

formaldehyde

glues, as well as recyclable packaging and water-based inks.

Their products are

marketed as "green"

, and are recognized as such by various buying guides endorsing green products for children.