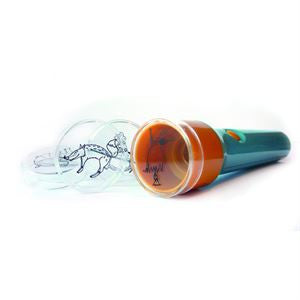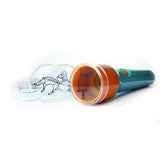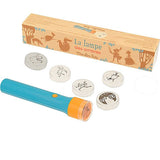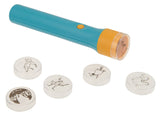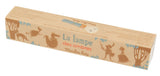 Moulin Roty Fantasy Shadow Flashlight
Perfect for telling stories at bedtime, this pocket flashlight comes with six different illustrated plastic end pieces that project their shadows onto the wall (forest, dragon, witch, wolf, princess and a knight)! Measuring 7-inches long, the shadow flashlight is safe for tots aged 4+.
Dim the lights and let the show begin! Moulin Roty's "Les Ombres," or "The Shadows," collection features an assortment of handheld shadow puppets that will play on your little one's bedroom wall while being brought to life by the stories you create for them. The collection includes four different sets of sturdy cutout images on wooden sticks: a Parisian night, a medieval castle, dinsoaurs, and a circus! A pocket guide to "shadowgraphy" will teach both you and your child how to shape your hands into 7 different animals or use the shadow flashlight for instant fun! With all this action, the collection also features a backdrop theatre curtain that can be used to take any blank wall from ordinary to extraordinary.
Presented by Bonjour Petit, Moulin Roty is a French toy company that has been crafting quality toys and their accompanying stories for 40 years. With a focus on preserving the childhood soul, Moulin Roty is devoted to promoting softness, fantasy and tenderness." Each character is designed in France using the finest French fabrics and material s. Moulin Roty is also very proud to be a worker-owned cooperative, putting quality, creativity and excellence first!
Launched in January 2015, Bonjour Petit is an online retailer whose French / American'team is dedicated to bringing the finest toys from Europe to the United States. Based in Portsmouth, New Hampshire, Magic Forest, Ltd. sources these fantastic toys to Bonjour Petit's customers and has been sourcing toys that meet the highest quality and safety standards from Europe since 2004.
Shadow Flashlight Makes Your Own Bedtime Stories
Comes With 6 Disks And Carry Case
Projects Images Upto 2 Feet Wide
Simply place one of the disks on the end of this flashlight and project an image on a wall or ceiling to see a fairy tale characters magically appears
About Moulin Roty
Today, Moulin Roty represents 40 years of dreams and softness. A multitude of characters and stories have punctuated the years.
Moulin Roty is also 75 people across the world of which 37 are associates-employees based in Nort sur Erdre. In 2010, Moulin Roty achieved two figure growth.
Moulin Roty offers more than 800 references and each year, 1.5 million products leave the company for destinations both near and far : France, neighbouring countries, the USA, Japan, Australia . . . Our comforters cross oceans and are sold throughout the world.