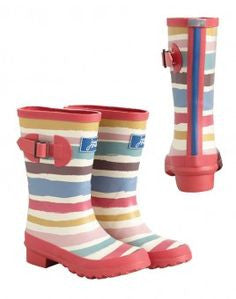 Little joules girls rain boots
Don't wait for a downpour! Head to nearest stream or rockpool and make a splash with these Little Joule raid boots! Synthetic Upper, Synthetic Lining, Synthetic Sole. Wipe Clean.
Little Juole is an award winning boutique childrens clothing brand that won Best UK Fashion Brand category in Junior Design Awards 2011. Born in the British countryside and crafted with true British style and eccentricity, Jittle Joule makes upbeat, colorful boutique kids clothing for children who love the outdoors and live life to the full.
About Little Joules
Tom Joule began selling clothes at outdoor events in Great Britain over 25 years ago. Tom realised that his customers were a bright and colourful bunch but their clothes were quite the contrary. Since then Joules has fast become one of Britain s best-loved lifestyle brands. Based in Market Harborough, where we ve been from day one, our talented team of individuals work across everything from print to production, all singing from the same hymn sheet to make the ordinary extraordinary.