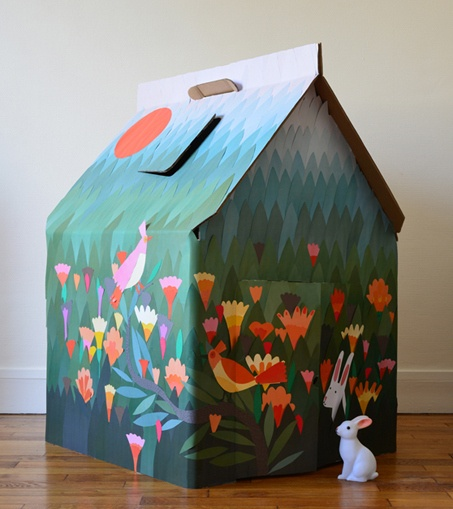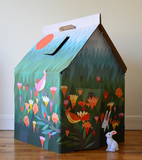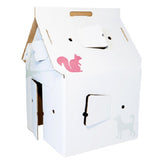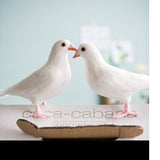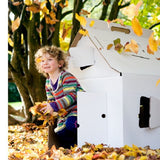 Studio Roof Casa cabana
Casa Cabana comes either completely white or with a cat on a tree, a small ant, a rabbit and a squirrel.
In any case more than enough room to color, paint and decorate your very own Casa Cabana. Let it be your tree house, mansion or hiding shed. Give it as many names as you like .... and do you want to be left alone a bit? .... put a sign no trespassing . Casa Cabana has a door, seven windows and many spy holes. Made of recycled paper and biodegradable.
Dimension: 27.6x27.6x41.3 inch (70x70x105 cm)
Weight: about 6.5 lb (3 kg)
About Studio Roof
/strong>
An impression of our work in the studio with images from blogger Dara Muscat:
Together with our three children, we started Studio ROOF in 2005. Our inspiration lies
in the beauty of childhood, the imagination, nature, peoples of the world, art and craftsmanship,
and our drive has above all been the urge to create, and to unfold a new imagery.

The cardboard playhouse with which we launched now a classic piece in many a children s room
was soon followed by a great many colourful doll s houses, horses, dogs, dragonflies, and trees,
and there is no end to imagining new poetic toys and objects!

More than 10 years years down the line, we proudly see that our creations are sold worldwide
in the most beautiful shops.
At work in the studio. Also on the image Alice Spieser, assistant designer from France.
We also enjoy working with talented design interns from all over the world.

We are a family business: this picture was taken in our studio with our children
Stas, Nika and Sonia. Also in the picture are Romy's father Dick who helps with the administration,
In愶s - a dear friend and stylist who always creates the most beautiful images of our products,
Alice - freelance designer from France - and Anne - intern product design -.

The imagination is always the motive behind our collection, and we believe that imagination is
not bound by age. Our products are creations for all ages, inviting to tell stories to each other,
to inspire and to be inspired.

Our motto is:

'Run through the forests, gallop through the fields. Set your imagination free and play!'

Dara Muscat made a lovely short video about our studio life, which you can watch on YouTube:


Romy & Ilya
Studio ROOF