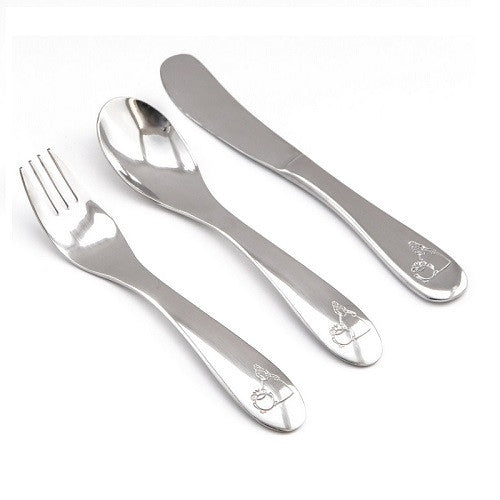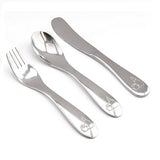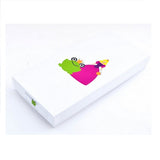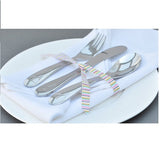 kiddoBLOOM Princess flatware
This Princess flatware will make your little princess' eyes sparkle. Perfectly proportioned for her mouth and hands, this may become the go-to flatware during every mealtime. Each 3-piece place setting includes children spoon, fork, and knife in a gift box.Passed the required tests for US FDA General Recognized As Safe Crafted of high grade stainless steel, hand polished to a mirror finish to keep it looking new even after years of use. For more details about the materials used, please see "Learn More" page.No-paint engraving to avoid paint chip dropping to food.Lead free. Cadmium free. BPA free. Phthalate free.Dimension: spoon and fork: 5 3/4" long, knife: 6 1/4" longDishwasher-safe.Minimal and recyclable packaging is environmentally friendly
About kiddoBLOOM
The birth of kiddoBLOOM was inspired by our parenting journey. There were many ups and downs in this journey, and there were times when we were completely clueless about how to parent our children. KiddoBLOOM is an expression of the hope we have that by God's grace, our children will bloom into productive adults leading lives of gladness and joy.


MISSION
We hope that the kiddoBLOOM frog stamped on our products will serve as a reminder that your little tadpole will eventually transform into a leaping frog. We hope that you will, like us, choose to remain hopeful that your children will grow into resilient productive adults.


VISION
Our vision for kiddoBLOOM is that it will have a positive impact on our community and our world. We choose our products with great care and only offer products that are safe and support your child's healthy development. We test our products in trusted labs to ensure that they are free from harmful chemicals. We cherish our childhood memories, hence we design our products to last a little longer. For example, our stainless steel flatware is designed without any paint or plastic components which can break down over time. Simplicity in our design contributes to the timelessness of our products. We insert an element of fun into our simple design. We believe in surrounding our children with hopeful blessings, and our future clothing line will continue to carry the kiddoBLOOM emblem of hope.