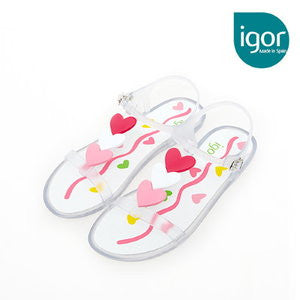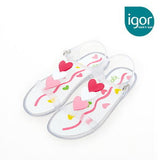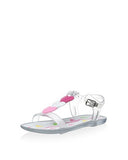 Igor tricia heart
Synthetic
Jelly t-strap sandal features adorable heart trim,
contoured footbed, adjustable buckle
Approximate measurements: heel 0.75 , platform 0.5
Country of origin: Spain
About Igor
Since 1974, our family owned and operated company has been specializing in producing high-quality rainboots and jellies for women and kids. Our factory is located in the Alicante region of southern Spain, and has been the only manufacturing source of Igor. We combine generations worth of expertise in shoe-making, with a design team in-tune with the latest trends in fashion to bring you an end product which is as stylish as it is practical. We pride ourselves in the uniqueness and quality of our 100% European-made products.
We like fashion, we LOVE colors, and we really really like water! Whether you plan on spending the day at the beach or jumping in puddles in the pouring rain, our jellies and rainboots are sure to be the right fit!