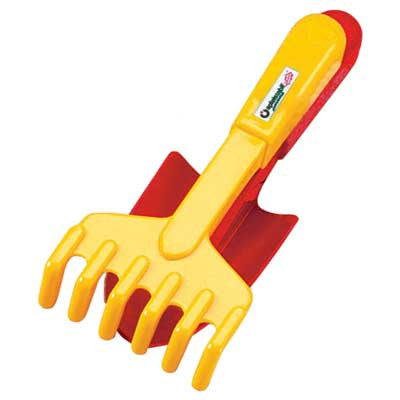 Garden Set from Spielstabil
Introduce your little one to the fun of gardening with this virtually indestructible gardening set from Germany. Made of high quality plastic, this shovel and rake are sure to stand the rigors of childhood use for many seasons to come.
Designed and made in Germany.
Shovel: L 9.5 x W 2.75
Rake: L 8.5 x W 3.75
Made in Germany.
About Spielstabil
Spielstabil is a third-generation family business that has made toys in Germany since 1919 nearly 100 years ago. HABA USA is proud to be the exclusive importer and distributor for Spielstabil toys and products in the United States.
Exhaustive testing by the toughest, most critical customers, kindergarteners, puts Spielstabil under the scrutiny of young people having fun, or better said 5 years olds in their first year of formal education in most cultures worldwide. Spielstabil sets their standards high. Their products are ergonomically designed for the small hands of babies and toddlers. Materials, shapes, and colors are carefully chosen to attract and entertain young children. The products are soft and easy to clean to ensure their safety and cleanliness.
Before the toys are made, Spielstabil carefully selects only materials that are safe and environmentally friendly. You ll never find PVC, BPA, PAK or Phthalate in them, and whenever possible, Spielstabil uses recycled materials to cut down on needless waste in landfills. That s why Spielstabil products are consistently top-rated by both children s and environmental groups throughout the world including Dr. Toy, the nova Institute and the International Conference on Industrial Biotechnology.
Kindergarten-tested Spielstabil products are food-safe and suitable for microwaves and dishwashers. They re virtually indestructible and come with a 3-year guarantee against defects in material or workmanship. From design through production and packaging, Spielstabil is committed to continuous improvement.
Spielstabil isn t just about the children, either. They understand that parents want safe toys that not only entertain their youngsters, but educate them as well. That s why Spielstabil toys are designed to stimulate young minds, both indoors and out.