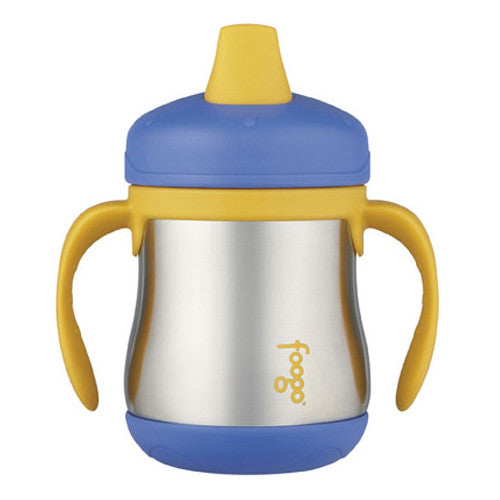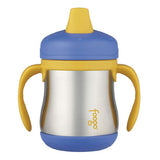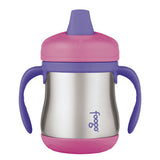 [Foogo] Leak-Proof Sippy Cup w/Handle
TherMax double wall vacuum insulation for maximum cold temperature retention

Spill-proof valve prevents messes and is easy-to-clean

Soft spout is easy and comfortable to sip

Kid-proof design - unbreakable stainless steel interior and exterior withstands daily wear and tear

Dishwasher safe

Exterior stays condensation free

Non-slip, scratch resistant base

Keeps beverages cold for up to 6 hours - for cold contents only

7 oz. capacity

Weighs 11 ounces
Care and Use: Foogo Phases BS
TO CLEAN
Before first use, and as soon as possible after each use, wash all parts with warm, soapy water. Please reference the sipper straw assembly diagram for proper disassembly in order to thoroughly clean all parts.
Rinse all parts thoroughly and allow to dry.
DO NOT use bleaches or cleaners containing chlorine on any parts of the product.
DO NOT use abrasive cleansers or scrubbers as they may dull the finish.
All parts are top rack dishwasher safe; however, hand washing is recommended for best results.
For maximum thermal efficiency, prechill prior to use. Fill with cold tap water, attach lid, let stand for 5 to 10 minutes and empty.
TO USE
Assemble valve, by firmly placing the valve plate into the bottom of the soft spout.
Firmly place assembled soft spout into the bottom of the lid cover.
Fill sippy cup with cold liquid.
Securely tighten lid before giving to child.
A worn soft spout may cause the product to leak. Check soft spout regularly and replace immediately if damaged or worn.
Replacement parts are available by calling Thermos at 1-800-831-9242.
CAUTION
DO NOT USE WITH HOT LIQUIDS. FOR COLD LIQUIDS ONLY. Hot liquids may cause burn injuries.
DO NOT BOIL. DO NOT MICROWAVE.
Always test temperature of liquid before feeding to your child.
Dairy or other liquids that spoil easily should not be kept in product for prolonged periods.
To avoid possible injury, do not let child walk or run with product.
To avoid possible injury, do not let child chew or teethe on the soft or hard material of the spout as it may present a choking hazard.
Check spout and valve regularly for tears or cracks and replace immediately if damaged or worn.
Not intended for carbonated beverages as carbonation places product under pressure and may cause product to leak.
Never leave child unattended while using this product.
Continuous and prolonged sucking of fluids such as fruit juices or flavored sugary drinks may cause tooth decay.