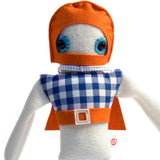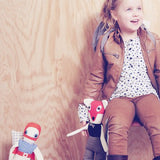 Esthex Tough Boy Storm Doll- Orange
Tough Boy Storm with his orange cape, is a cool flying object and he loves to impress Sofie and Naomie! But what they don't know is that Storm has to keep flying, because when he lands he has wobbly legs and he doen't look so cool anymore.
Though Boy Storm is washable, and a sizable, squeezable 16 inches tall. Incredibly soft, he's perfect for newborns and up.
All Esthex plush toys are made of cotton, velour, and felt. Originally designed from children's drawings and made by hand in Belgium, Esthex toys are now made in Thailand, in an ICTI certified facility to ensure good workplace conditions for all employees.
To learn more about why Green Rainbow Revolution thinks Esthex is GRReat!, check out our Supplier Profiles.
100% cotton, velour (80% cotton, 20% PES).
No excess packaging.
Made in an ICTI certified facility, ensuring good workplace conditions.
Made in the Thailand.
Recommended for age 0+.