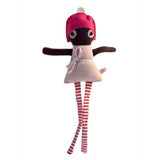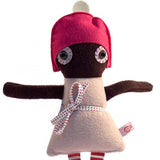 Esthex Doll Naomi
Naomie arrived by plane one day, leaving her beautiful home country behind to have tea with her pen pal Sofie and meet some lovely new friends. She will be a lovely companion for any toddler getting ready to explore the world. Incredibly soft, she's perfect for newborns and up.
The Naomi Pink doll is washable, and a sizable, squeezable 16 inches tall.
All Esthex plush toys are made of cotton, velour, and felt. Originally designed from children's drawings and made by hand in Belgium, Esthex toys are now made in Thailand, in an ICTI certified facility to ensure good workplace conditions for all employees.
100% cotton, velour (80% cotton, 20% PES).
No excess packaging.
Made in an ICTI certified facility, ensuring good workplace conditions.
Made in the Thailand.
Recommended for age 0+.