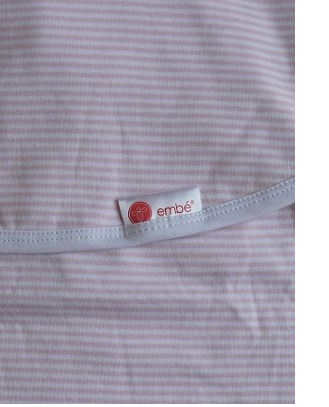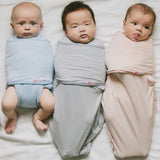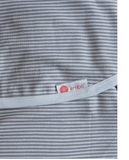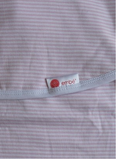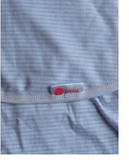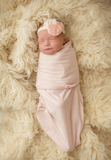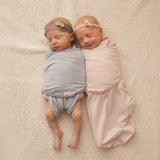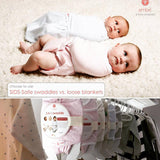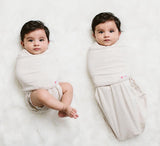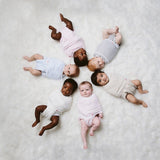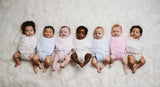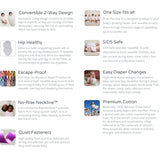 embe Luxe 2 way swaddle
Embé Swaddle
The Embe Classic 2-Way Swaddle features an unique "legs-out" or "legs-in" design, which lets you decide on legs-in warmth or legs-out cooling for your little one. The "no-breakout" design means even a very strong baby will stay swaddled securely.
The innovative 2-way design of the Embe Luxe Swaddle lets you provide legs-in warmth, or legs-out cooling and heat dissipation for your little sleeper
1 size fits newborn through 4 months, or 6-14 lb.
Made of lightweight, breathable 100% ultra soft, Peruvian Pima Cotton
Can be worn over regular sleepwear
Helps reduce the risk of overheating
"No-breakout" zipper closure
Gives you easy diaper access without unswaddling
Structured neckline keeps fabric from coming up and over the face
Heart-shaped pouch helps promote proper hip development
Strong yet quiet fasteners won't startle baby
Machine wash

Made in Peru
About Embé
/p>
Embé (pronounced "Em-bay") was founded in Orange County, California and is led by Founder and CEO, Jennifer Wynh. Jennifer is wife and mother of four beautiful children having four children in the short span of five and a half years.
Jennifer did not start off in the world of fashion or retail as one would presume. She instead graduated with a degree in Computer Science from the University of California, Irvine and had went on to have a successful career in aerospace engineering. She led the development and design of large, complex military systems, working for companies such as JPL/NASA, Boeing, Northrup Grumman, and Rockwell Collins, just to name a few.
In the summer of 2012, after the birth of her third child and after a unsuccessful search of a much needed summer swaddle, Jennifer was disappointed and a little surprised to find that nothing met her needs. She wanted a swaddle that was lightweight and versatile for the warmer seasons, to be able to swaddle and wrap her baby s arms in the blanket, but have the option to leave the legs out of the blanket during warmer temperatures. The solution came to her late one night, and she knew that she had the answer to a common problem that many parents deal with when swaddling. She quickly got working on her first prototype. Using her strong design sense and engineering background, she birthed the concept for the embé 2-Way Swaddle. She tested it on her baby girl and on dozens of other babies and found that the design worked!
Jennifer then had to make one of the most difficult decisions of her life, to leave a stable and successful career behind in exchange for the uncertainty of pursuing her dream. She entered into a world of cut and sew, sourcing, retail and wholesale. Industries that she knew absolutely nothing about. Choosing to follow her dream to make a difference and help solve a real problem for so many sleep deprived families, including her own, she took the big leap of faith by acting upon her newly found confidence, knowing that she had proved that her solution works. She applied for her first utility patent, and with that the Embé brand was born. Two years later, the embé 2-Way Swaddle the 1st ever patented legs-in and legs-out swaddle made its debut and embé has been helping to provide families with smarter, safer, more restful sleep ever since. embé truly is Created for Baby. Inspired by MOM.
We invite you to explore our latest collection and discover a life with baby that's easier, comfortable and more stylish. At embé, we love babies and solutions for parents. When it comes to creating products that make baby safe and comfortable, and a parent's life easier, you can depend on us. Value, innovation, and quality are our core principles and an extraordinarily high level of thought and care is put into each and every product. We strive to bring products that are as versatile and useful as they are beautiful. Safety is kept top of mind when developing our product range and every product goes through a rigorous course of testing.