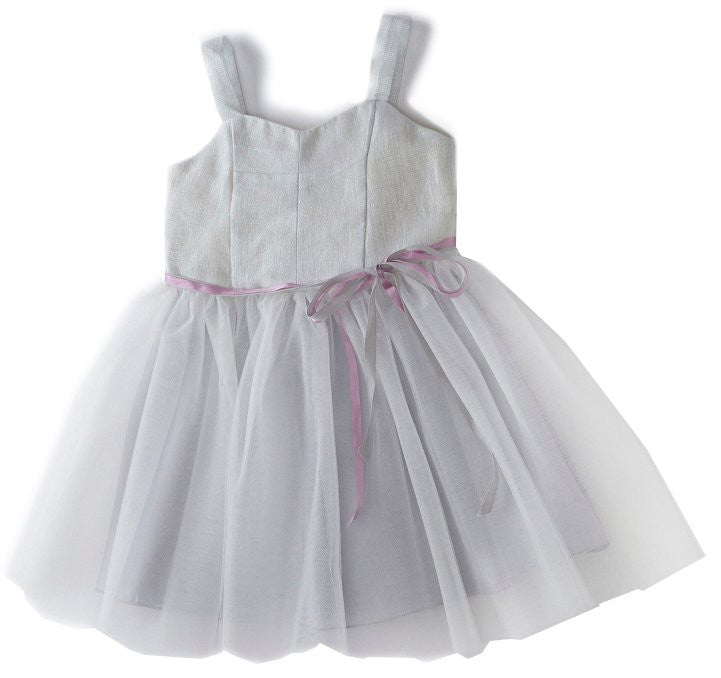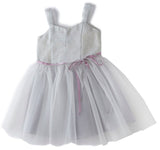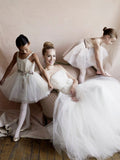 [dagmar daley] jubilee- grey sparkle
This white dress will make your little girl look very elegant!
the perfect pretend dress for everyday-all day
cream silk/cotton bodice, off white tulle w/ silver lining and a pretty silver ribbon.
hand wash, made in USA
About Dagmar Daley
Inspired by the pure and natural beauty of children and the imagery of childhood in simpler times, Dagmar Daley set out to create stylish, simply detailed clothing. Timeless designs (both nostalgic and modern), quality fabrics, and fine detailing are inherent in her collection. The line has been produced in San Francisco since the beginning, we have been committed to local production since before it was fashionable. We are lucky to work with some of the best, most hardworking local family factories in the Bay Area.  This close collaboration guarantees quality, but more importantly it gives us understanding and compassion for the few remaining factories struggling to provide local manufacturing services. Local does matter. Only our hand loomed alpaca sweaters are produced abroad.
Dagmar Daley worked in architecture and design prior to starting her children's line in the fall of 2003. She works in a converted cottage in the mission district of San Francisco, a short walk from many of her production sources. Find the collection in beautiful shops in the United States and abroad.