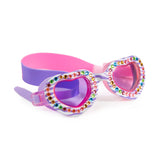 Bling2o Jungle Jam Girl Swim Goggles
For the animal lover in you, Bling2o s Jungle Jam goggle sports our exclusive heart shaped frame printed with an iridescent zebra pattern, a full set of rhinestones and a bold AB lens to finish this elegant style. Jungle Jam is also latex free, offers a UV-protected, anti-fog lens and is available in two striped colorways.
Come in Amazon Black and Jungle Juice Purple
About Bling2o
Who knew at the time that an at-home project with our kids would become an international gift line?! But after friends and neighbors asked for their own custom decorated googles, we realized that we were on to something. We were all experienced New York wholesale, merchandising and product design experts and bravely launched Bling2o in 2013. We know when we combine our passion with the trends kids love, endless possibilities exist for our products. You can't beat making a product that makes EVERYONE smile!