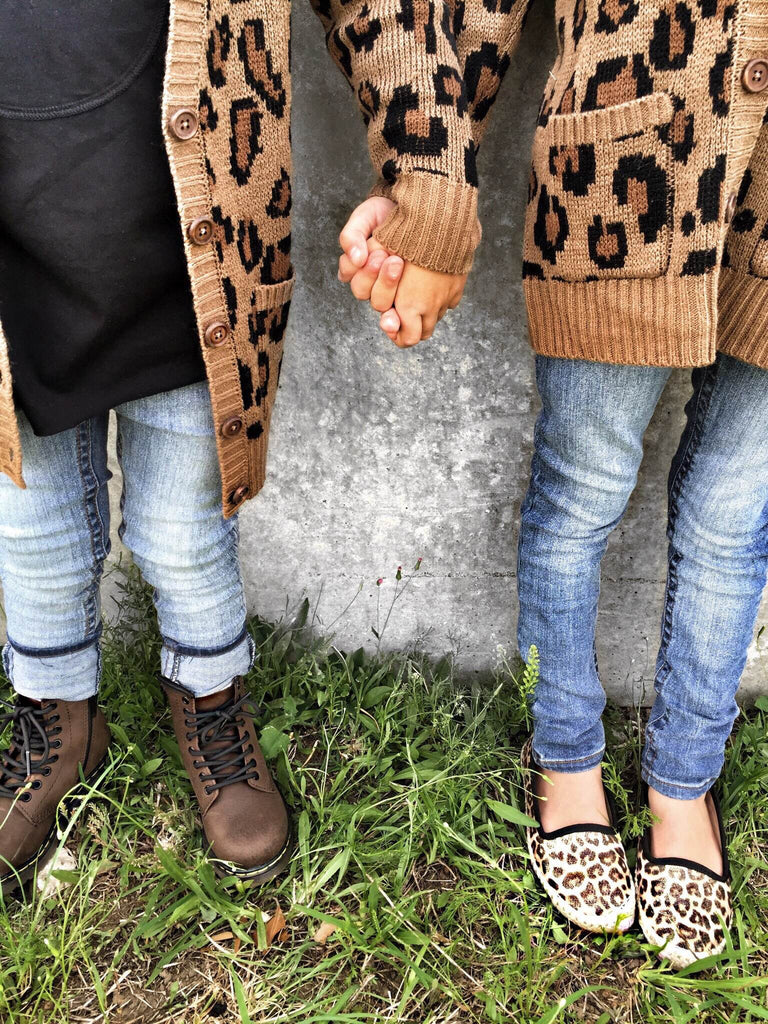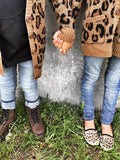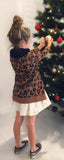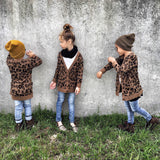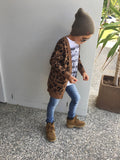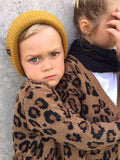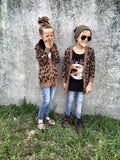 Beau Hudson Cardigan - Chunky Leopard Knit
Our Unisex Chunky Leopard Knit Cardigan is the must have wardrobe staple for those cooler months- its SUPER soft (not itchy and scratchy) so you'll have no complaints from your babes getting to snuggle up in it! It is perfectly unisex and comes in size 1-2 up to size 7-8. Made from our own designed leopard print, and detailed with wooden buttons to complete the look- this is a statement piece and will have your fashionista's standing out in the crowd. Perfect to wear buttoned or un buttoned with our denim Jegs, thrown over a t-shirt dress in Spring, or worn oversized in winter over some leggings, with boots and a beanie!
Approx. Sizing:: Our Chunky Leopard Knit Cardigans generally fits true to size. It is made longer than our Signature cardigans to give the "oversized" look, while still fitting perfectly in all the right places! If your child is at the end of a size range, we recommend sizing up. However buy generally what you would normally buy your child in other clothes.
Example:: We have two 3 1/2 year old boy models. One is bigger than average, one is smaller than average. The bigger one wears size 3-4 in this cardigan (normally wears size 4 clothes), the smaller wears 2-3 in this cardigan (normally wears size 2-3 clothes.)
(Sizing is just a guide and based on average child size)
MODELS WEAR:
Halen is 5 1/2yrs, 23kg (50lbs), 118cm (46.5 inches) and wears the size 5-6 in our Leopard Cardigan. (He is currently growing out of size 5 in our Signature Cardigans.)
Duke is 3 1/2 yrs, 18kg (39lbs), 104cm (41 inches) and wears the 3-4 in our Leopard Cardigan. (He currently wears size 4 in our Signature Cardigans.)
Ella 6yrs and very slim, 20kg (44lbs), 118cm (46.5 inches) and wears the 5-6 in our Leopard Cardigan. (She currently wears size 5 in our Signature Cardigans.)
Recommended care instructions:
Cold Gentle Machine Wash with like colours. Do not handwash or soak as colours may run. Line dry in shade. Do not tumble dry. Iron on cool if required.
Made from 100% Acrylic.
About Beau Hudson
Australian designed fashion label Beau Hudson began in 2013 as a creative outlet for Founder and Designer Sash Deacon.
Beau Hudson is a fusion of on trend simplistic designs with a timeless style evident in every piece of clothing. The brand aims to deliver uncompromising quality pieces that are comfortable and durable, empowering confidence to those who wear them. The Beau Hudson style is a mix of bold and contrasting prints paired with simple but sophisticated basics.
Now three years in, the brand has continued to grow in popularity around the world providing the latest fashion pieces for the freshest of newborns right up to adult sizes, and has already been spotted on the babes of celebrities around the globe.
Located on Australia s Gold Coast, the company is owned and run by husband & wife team, Roscoe & Sash, and is rapidly expanding from being a Children s label to an Adult and Children s clothing & lifestyle brand.
Between their 3 boys Halen, Duke + Knox being their biggest inspiration, Sash s unique eye for style, paired with their unwavering determination to produce quality pieces is what has propelled Beau Hudson into a league of it s own style in the children s fashion market.
So thanks for stopping by and we hope you enjoy the Beau Hudson experience!