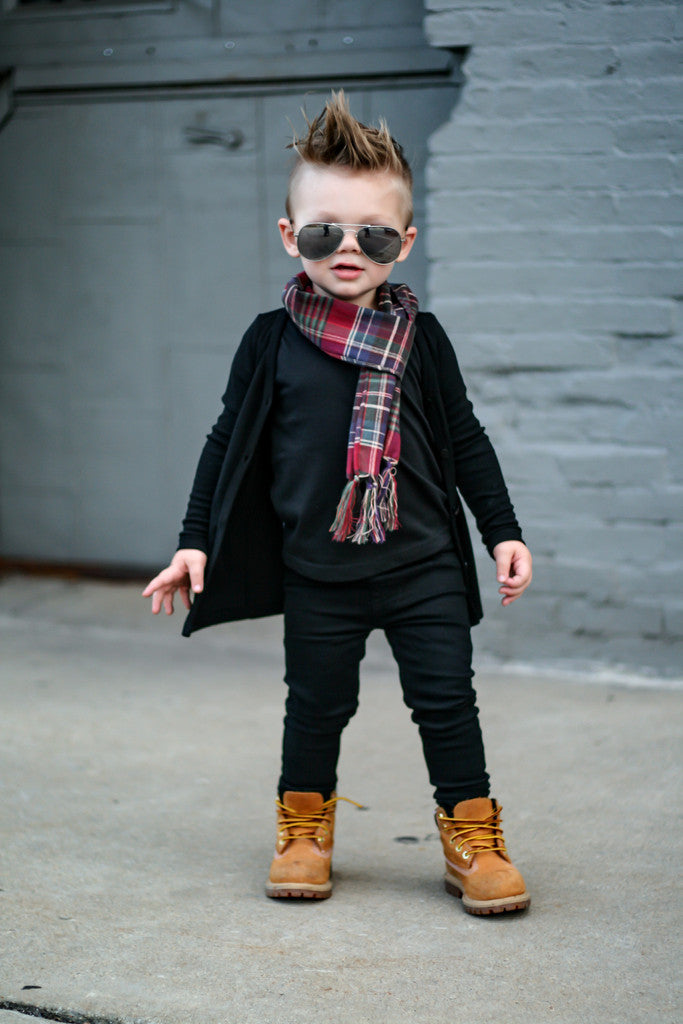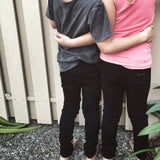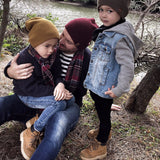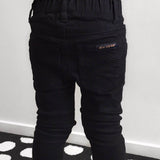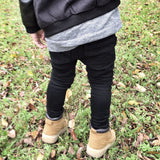 Beau Hudson Black Denim Jegs
Made from real denim inspired from the classic 5 pocket style, including Beau Hudson's authentic Signature back pocket stitching. They have an elasticated waist that will stretch with your growing child (and also makes quick toilet dashes easier) without the hassle of bulky buttons and zippers, and Mr. & Miss Independent can get themselves dressed in the morning with ease! They have been designed for comfort as much as style, made from 98% cotton 2% elastane. These stretch denim Jegs have been jumped in, super hero fly kicked in and pass with flying colours. 100% Unisex these Denim Jegs look perfect on both boys and girls.
Denim Jeg Size Guide> They are made to fit true to size. What your child generally wears in pants, will be what we recommend to get (eg. if your child is 2 but wears a 3, then get a 3.) Our Jegs are made to fit skinny, but the stretch in the denim allows for this. As they are a made to be a Skinny Jean, size up if you like a little more room. If your child is at the end of a size range (eg. they are growing out of a size 1 in their current pants) then we recommend sizing up. If our Jegs are long in length on them, this is totally fine as they will just have more scrunch in the leg (they wont hang over the foot or get in the way.) If you have a baby that is nearing 11-12 months and is average size OR you have a baby that is slightly younger with lots of bubba chub- then we recommend sizing up to the 1 (if you want room for them to grow.)
SIZE OUTER LEG
1: 47.5cm (18 3/4 inches)
4: 64cm (25 1/4 inches)
As our Jegs are made to fit skinny, the best way we have found to get them on with ease is to cuff the ankle of the jeans before sliding the foot through, and then when the foot is in, simply unfold! There is a sticker on your Jegs to remind you of this also as it really makes the biggest difference when getting them on! The sticker reads:
As we are made to look and fit super skinny, we may seem snug around the ankle when you go to put us on. The best way to do this with ease is to cuff us back at the ankle and then slide your little ones foot through (which allows a slightly wider opening.) And then when the foot is in you can unfold us again which will give you the desired look! And remember, we will stretch as we are worn to move comfortably with the active little legs were on!
About Beau Hudson
Australian designed fashion label Beau Hudson began in 2013 as a creative outlet for Founder and Designer Sash Deacon.
Beau Hudson is a fusion of on trend simplistic designs with a timeless style evident in every piece of clothing. The brand aims to deliver uncompromising quality pieces that are comfortable and durable, empowering confidence to those who wear them. The Beau Hudson style is a mix of bold and contrasting prints paired with simple but sophisticated basics.
Now three years in, the brand has continued to grow in popularity around the world providing the latest fashion pieces for the freshest of newborns right up to adult sizes, and has already been spotted on the babes of celebrities around the globe.
Located on Australia s Gold Coast, the company is owned and run by husband & wife team, Roscoe & Sash, and is rapidly expanding from being a Children s label to an Adult and Children s clothing & lifestyle brand.
Between their 3 boys Halen, Duke + Knox being their biggest inspiration, Sash s unique eye for style, paired with their unwavering determination to produce quality pieces is what has propelled Beau Hudson into a league of it s own style in the children s fashion market.
So thanks for stopping by and we hope you enjoy the Beau Hudson experience!