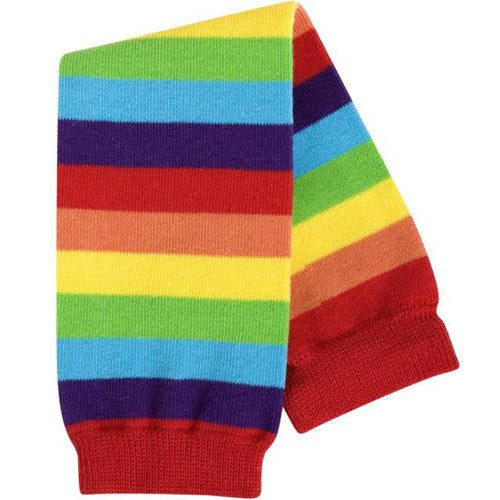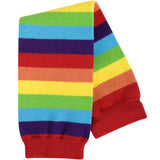 BabyLegs - Rainbow
BabyLegs protect you little ones sweet little legs from wind burn and chill.
Feet remain free to allow for successful crawling, walking and dancing.
BabyLegs keep legs warm year round
Make a fun fashion statement with styles for every occasion with BabyLegs!

They fit most kids from newborns to size 10.

BabyLegs are made with a very soft blend of 80% cotton, 15% polyester, 5% spandex.
Huggalugs are 80% cotton, 15% nylon, 5% spandex.


About BabyLegs
BabyLegs, the original brand of baby legwarmers, began as most successful products do: via necessity. In 2005, a Seattle mom created BabyLegs to keep her daughter s legs warm while diaper-free. This impromptu invention allowed the baby s diaper rash to heal, but also protected her from the elements, made diaper changes easier, and protected her legs while crawling. Almost 10 years later, the brand is owned by United Legwear Company and with its support, has grown to include protection at every level and styles for the whole family.
Majority of our styles are made of latex-free, organic cotton and are available in both newborn and regular sizes. BabyLegs are trusted by mothers, even for use in the hospital when baby is born. They are also frequently used in pediatric wards to help healing, keep bandages in place, and keep critical areas free of restrictive clothing. The perfect part of a take-me-home outfit and during the first three months of life when babies spend so much time in one-piece snap-suits, organic newborn BabyLegs are among our best sellers. BL BodyWear are coordinating sets: snapsuit and legwarmer styles that are also made of organic cotton. After six months of age, babies are big enough for our one-size fits most (OSFM) styles that can be worn up until approximately 8 years old and by 9 months, when babies begin crawling, there s BabyScoot, featuring select terry cushioned panels at the knees, to offer soft padding when baby begins to crawl.
In addition to protecting baby through all ages and stages, BabyLegs also helps you Protect What You Love year-round because of different seasonal fabrications. Our BabyCool! styles features UPF 50+ for protection in the sun and are made from a light-weight mesh fabric that breathes to help keep cool. ByeByeBugs features EPA approved Insect Shield to repel insects (such as mosquitoes, ticks, ants, flies, etc). These warmers are durable and safe as the Insect-Shield treatment does not penetrate the skin. BL Varsity styles fit older kids through adults and come in your favorite teams colors to show team spirit while staying warm. And heavy-gauge WinterWarmers are a double-lined chunky knit the coziest BabyLegs yet. BabyLegs are a diaper bag essential and nursery staple. All products are tested and CPSIA approved to ensure child safety, are available in more than 50 countries, and have sold over a half-million pairs.
At BabyLegs, we take our responsibility to protect your babies and children very seriously and are honored to play a part in their growth and development. BabyLegs helps you do what s most important: Protect What You Love.