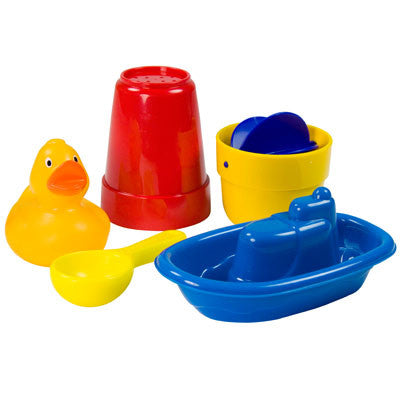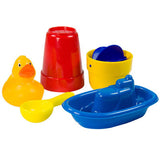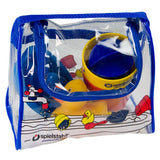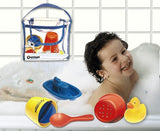 Splashing Set from Spielstabil
Bath time is one of the most exciting times of the day! Your child will be delighted to play with this Splashing Fun Bath Set from Spielstabil! Includes rubber duckie, boat that floats, spoon scoop, "raining" cup with holes and a mini bucket mill. Also included is a transparent carrying bag with zipper and handle. Bag has suction cups to hang it on the side of the tub and holes in the bottom to drain the water after use. Rubber duckie is made in China under strict European toy safety standards. All other contents made in Germany of PVC-free plastic.
All Spielstabil products are made from ABS plastic, and are PVC free. All products designed in Germany.
Ducky: L 3.0 x W 2.5 x H 3.0 in. Boat: L 6.0 x W 3.5 x H 2.5 in. Wheel Cup: 3.25 x H 3.0 in. Sieve Cup: 3.0 x H 4.0 in. Spoon: L 5.0 in.
Made in Germany: Bag, Cup, Cup with spinner, Spoon
China: Duck, Boat .