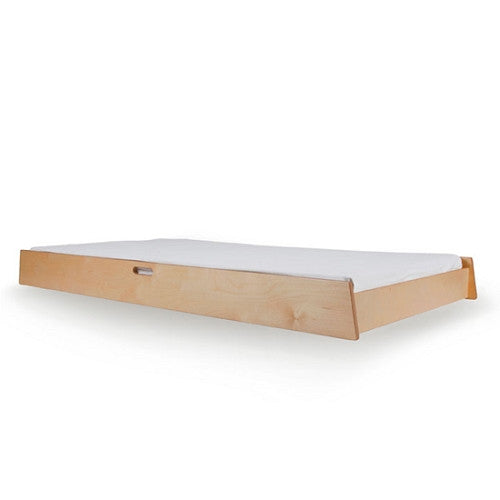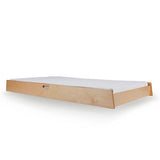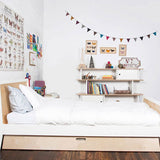 [Oeuf] Sparrow Trundle
Our practical trundle makes the Sparrow twin bed twice as useful! With the mattress (sold separately) the trundle makes an additional bed, ideal for sleepovers. Without the mattress, the trundle can be used to store clothes, sheets and blankets.

Fits mattress size 38"W X 72"L X 5"H
(please note this is not standard twin-size)
size; 76 1/4"x7 1/4"x39 3/4"



About Oeuf
Michael Ryan and Sophie Demenge are the husband-and-wife team who created Oeuf. Born and raised in upstate New York, Ryan brings an engineer s perspective and eye for minimalist design to the company s high-quality, functional pieces. Raised in Paris, Sophie s playful and practical approach to design was nurtured in such diverse places as the philosophy department at the Sorbonne, trapeze classes in San Francisco and the Pratt Institute in New York.
After meeting, the pair teamed up to hone their aesthetic in R+D Designs, a home goods company known for ingenious pieces. The birth of their first child in 2002 turned the couple s talents to children s design, and together they created Oeuf with the vision to provide modern parents with high-quality, streamlined pieces that are sustainably sourced and responsibly created. The company started with just one crib, and has grown to produce several lines of stylish nursery and junior furniture, kids clothing, fun toys and elegant yet whimsical décor objects, sold all over the world. Michael and Sophie live in Brooklyn with their two children, who are their main source of inspiration for creating new products. Being parents gives them great insight into what kids will love using and what parents want, allowing for kid-friendly furniture and décor to blend in a modern stylish house. Their family values reinforce their commitment to ethical business practices leading to the company motto, Be Good.
Oeuf s commitment to combining intuitive design, ecological and sustainable production with simple & clean style has made it one of the most respected and independent brands in the market.