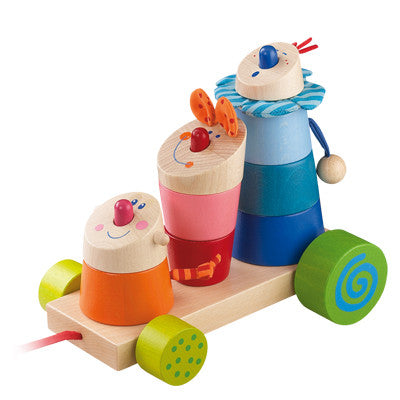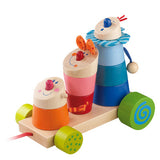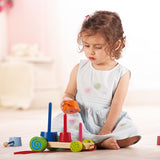 Stack the Trix Mix Wooden Pull Toy from Haba
It's time for some fun with the Trix Mix!
Haba is pleased to introduce this wacky wooden trio to your child. Riding on a wooden cart, the members of the Trix Mix are assembled by arranging blocks onto poles of different lengths. Smiling faces await to greet your little one as each character is stacked and created. Whatever way they are put together, these delightful characters will thrill your child. Fabric arms, hair and attire are present on some of these colorful wooden blocks to add a bit of personality and additional texture. When it's time to hit the road, your child can simply pull the leash and the Trix Mix will faithfully follow.
Lovingly designed and finely crafted in Germany. Made of hard wood with completely non-toxic, child friendly finishes.
Approx.Cart: L 8.25 x W 5.5 x H 2.5 inBiggest Block: L 1.5 x Diameter 2.5 inSmallest Block: L 1.5 x Diameter: 1.75 inLeash: L 25.5 in
Made in Germany.
About HabaUSA
We are a wood manufacturing company known for our high-quality baby and children's toys, as well as our children's games and block sets. We view ourselves as a "single source supplier" for children. We are expanding our product portfolio beyond wood products using the same high quality standards for which we are known. Thus, HABA also offers plush toys, games and textiles, for example. Our play "inventors" and designers put great care and thought into the creation of our products. Parents themselves, they are sensitive to the needs of our children. Their ideas are transformed by the use of materials which undergo continuous controls and careful inspection. Naturally, our toys comply and often exceed safety standards! HABA products may be found in well-stocked toy stores around the globe.