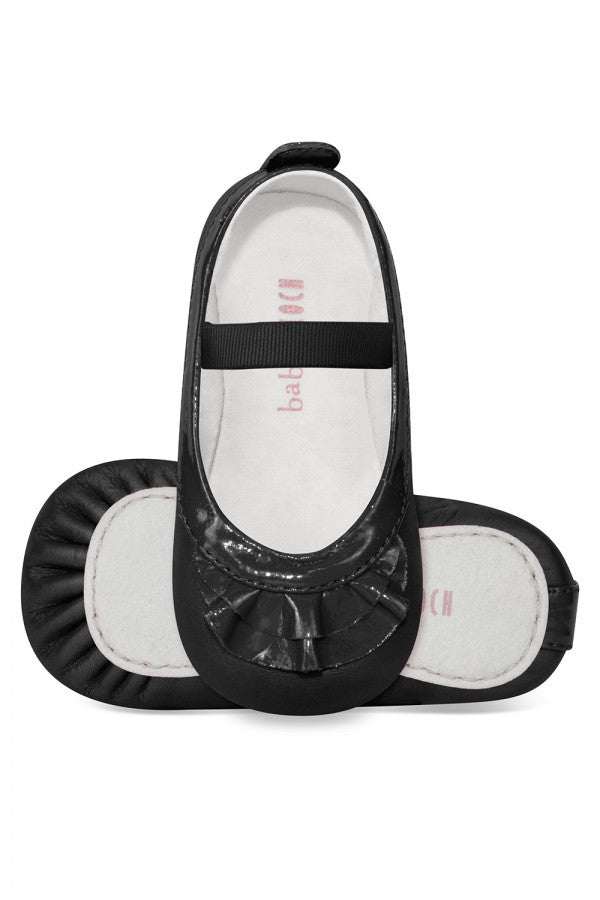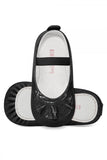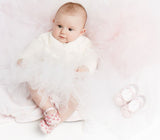 Baby Bloch Ballet Flats Frilled Pearl Black
These comfortable and glistening ballet flats have an elastic band to help them stay in place through every twirl.
Leather upper
Leather insole
Rubber outer sole
Imported
Size 20
About Baby Bloch
Jacob Bloch, a shoe maker by trade, emigrated to Australia from Eastern Europe in 1930 during the height of The Great Depression. Three years later he had saved enough funds to bring out his wife and three children.
Jacob's love of music and dancing took him to the local ballet schools and at one of these schools he noticed a young dancer struggling to stay en pointe. Jacob promised he would make her a better pair of pointe shoes to dance in, and so he did. It was 1932 when the first Bloch ballet shoes were made in a candle lit workshop in Paddington, Sydney. At that time, Paddington was a far cry from the fashionable and affluent area that it is today.
Jacob's reputation for making high-quality dance shoes spread rapidly. In the late 1930s many overseas ballet companies toured Australia, including The Ballet Russe de Monte Carlo.
Jacob made shoes for many of these visiting Russian ballerinas, including Olga Spessitzava, Tamara Toumanova, Irina Baranova, David Lichine, Tatiana Riabouchinskaya and Helene Kirsova, all to their own specifications.
His effort was so successful that it generated the creation of a full range of dance and dance fashion products. Since that time the rapid growth of Bloch's reputation has established the brand as one of the most trusted within the industry.
Quite simply, Bloch's dance DNA is every product we make. Today Bloch is fulfilling the promise made by its founder all those years ago.