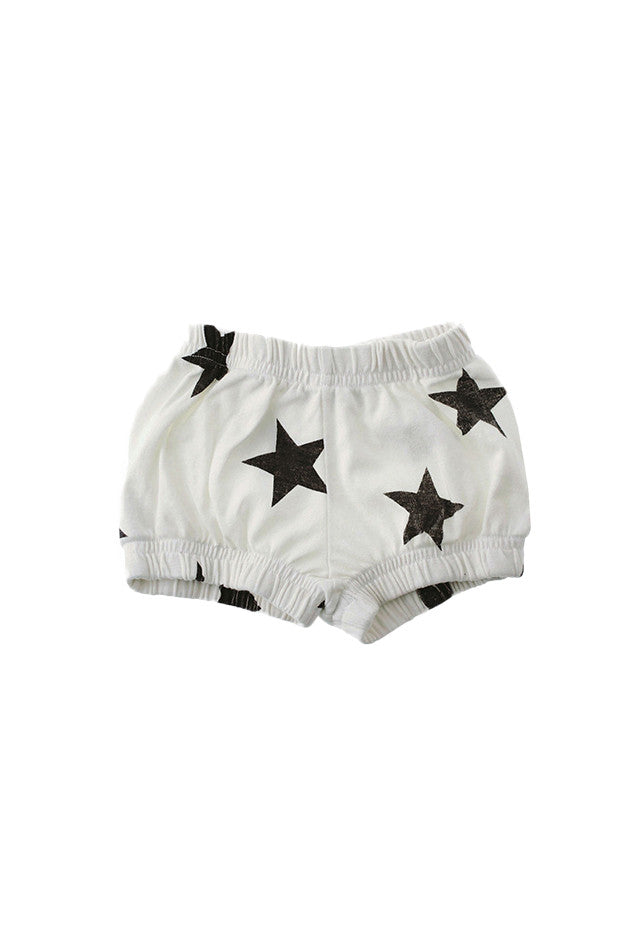 Nununu Unisex Star Yoga Shorts White/Black
NUNUNU's comfy white unisex yoga shorts with black star print. Made in soft cotton, features an elastic hem and waistband for ultimate comfort. Fits true to size.

- Color: Black
- 100% Cotton
- Made in Israel
- Machine Wash Cold, Tumble Dry Low


About NuNuNu

we believed children were simply potential people. they had their own ideas and perspectives.
and while we knew first hand how profoundly having a child could change you, it had never occurred to us that becoming a parent meant you had to stop being cool.
we wanted the same things for our children that we wanted for ourselves: quality, comfort and style. but once we began shopping for them, we couldn t find anything we really loved. we didn t understand why kids, small and vulnerable, weren t introduced to the wonderful mystery of minimalism.
so we became the brand that dressed kids in black. black is innocent. black is promising. much like a child, black is a blank slate, ready to be filled with ideas.
in a sea of fairies, cartoon animals and rainbow colors, muted hues and minimalist designs were almost taboo. but that only made it more exciting to create a clothing line that would become the antithesis of clichéd baby wear and over-stimulating kid stuff. we believed babies and children were beautiful and creative. they didn t need a whole lot of decoration. they just wanted to be comfortable. and we wanted to make clothing that would let them shine at every stage, from newborn to teen. we wanted to make clothes that adults would envy and want for themselves.
we began with the basics. black, grey, white, maybe a touch of color here and there. we designed practical shapes that wore well and looked great. we took graphic inspiration from geometric designs, architecture and industrial design. our fabrics had a worn and weathered feel you d normally associate with someone who had done a lot more living. each piece was special, with a handmade feel. we created counterpoint by dressing kids in clothes that were thought of as adult-like. we had a sense of humor about it, but we stayed serious about quality and detail. and we embedded our signature scent deep in the garments (it comes out after a few washes. once you smell it, you are hooked!).
our concepts caught on quickly, so we created an entire culture around them, nurturing our company like an infant. we let it grow and change us. it is still growing, and we are still changing.
what hasn t changed is our dedication to the idea that kids are individuals, that parenthood is the coolest thing, and that there should be clothing options that reflect that. we continue to make clothes that exist outside of the old notion of adorable. like every kid we ve ever met, our clothes are unique in their own way.
that s us,
iris & tali