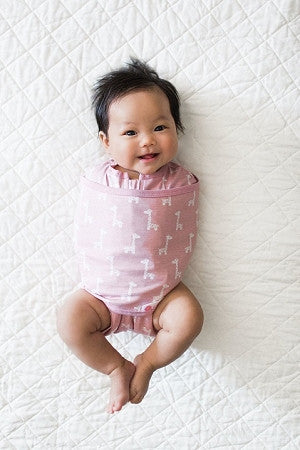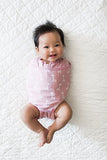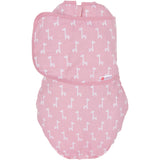 Embé CLASSIC 2-Way Swaddle (Pink Giraffes)
At embé, we love babies and solutions for parents. Our high quality swaddles provide a safe and effective way to swaddle your baby. The patented leg-in/leg-out feature sets it apart from traditional swaddles. The legs-in provides warmth, while the legs-out allows cooling and heat dissipation to help prevent overheating which is a known link to SIDS. The notable No-Rise Neckline helps keep fabric from rising up over baby's face or unraveling during sleep, reducing the risk of SIDS and allows parents to sleep confidently. The first layer No-Breakout Zipper and swaddle wing ensure that only arms are swaddled, leaving the hips and legs to move freely, as recommended by Pediatricians to prevent hip dysplasia. The generous heart shaped leg pouch aids in healthy hip and leg development and deemed hip healthy by the International Hip Dysplasia Institute. With legs in or out, we help makes parent's life easier by providing access for diaper changing without unfastening the swaddle and waking baby. embé swaddles are lightweight and provide cool and cozy comfort all year long because they are made with 100% breathable cotton.
True to One-Size fit is designed to adapt to your baby's growing needs, therefore this is one swaddle to carry them through the entire 4 months of swaddling. One size intended for infants 6-14lbs., up to 26".
100% Cotton

Made in Peru

One Size fits 6 to 14 lbs